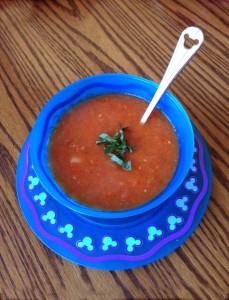 Since dealing with cancer, I have become a lot more aware of the nutrition in foods. I have also had to concentrate more on packing all the nutrition that I can into any dish I make. I can only eat small portions of food per sitting, so for me it's important to make every bite count. The one thing that seems to work very well for me is vegetable soups. Veggies can be difficult to eat because they take lots of chewing, or I have to cook them until they are dead and mushy which is no fun. Blended veggie soups are great, because it removes the chewing element and there is still all that great veggie nutrition and fiber. I shared my butternut squash soup earlier, and today I am going to share my version of a tomato soup (this original recipe was from Foodnetwork.com). This soup is great in the summer when tomatoes are cheap, or when your garden suddenly provides pounds of tomatoes all at once. Maybe the best thing about this recipe is that my husband, who hates tomato soup, really likes this one! It helps that there are several veggies in here, so it is not just plain tomato soup!
3 tbsp olive oil
1 ½ cups chopped red onions (about 2 onions)
4 carrots, peeled and chopped
1 tbsp minced garlic (3 cloves)
4 pounds of vine ripened tomatoes, coarsely chopped (5 large)
1 tbsp sugar
1 tbsp tomato paste
¼ cup packed fresh basil leaves (plus some julienned basil for garnish)
4 cups vegetable stock
2 tsp kosher salt
1 tsp freshly ground black pepper
Heat the oil in a large dutch oven, or soup pot over medium-low heat. Add the onion and carrots and sauté for ten minutes or until tender. Add the garlic and cook for a minute. Stir in the tomatoes, sugar, tomato paste and the basil. Add in the vegetable stock, salt and pepper. Stir well and bring the soup to a boil. Then lower the heat and simmer for 45 minutes until the tomatoes are tender. Process the soup with an immersion blender, normal blender or food mill, depending on how chunky or smooth you want your soup. Reheat the soup over low heat. Serve with julienned basil as garnish. You can also garnish and serve with croutons, fried onions or crusty French bread if desired.
This soup is wonderful with any kind of tomatoes I have tried. I usually pick whatever type of tomatoes look good in the store that week, whether that is vine ripened, roma or heirloom. I also tend to use whatever kind of onions I happen to have around, which can be yellow, sweet, Vidalia or red. Once the soup is blended it is also easy to add small soup sized pasta to add some extra nutrition and bulk to this soup. I love adding about ¼ cup of orzo or stelline pasta. Heads up, you may have to add a little extra stock or water if you add pasta. I love making this version of tomato soup because I know that it has so much more nutrition than a can of condensed soup (and it has less salt). I also love that I can get my husband to eat his one! ☺